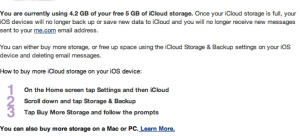 If you're reading this, you've probably received the email from Apple saying your iCloud storage is almost full BUT you can't see what it taking up all the space. Hopefully this will help…

It's mostly likely b/c in iOS 6.0 and earlier there was a bug that even if you deleted your Messages history, the attached files (images/video) were kept. If you still have those conversations and upgrade to iOS 6.1+, you can delete those conversations and you should be fine.
Otherwise, you'll probably need to either jailbreak your phone and delete them or backup your phone to iTunes, delete the attachments and then restore from the backup (see the steps below).

WARNING: Do this at your own risk. If you're not sure you can do it or your data is too valuable, don't do it. Just live w/ the iCloud bug as long as you can, get more space until the bug is fixed or take it to an Apple store. You've been warned.
Steps… (Summary: Backup iPhone, use iBackupBot to remove SMS attachments, restore backup to iPhone)
1. Connect your iPhone to your computer, run iTunes, manually backup your device to your computer (see image below).
2. Get iBackupBot and run it.
3. On the left, select the backup you just made and, w/in that, select 'Multimedia File Manager.' (see image below)
4. On the right, select 'Other Multimedia files' tab at the top and tap the 'Filename' column to sort them. (see image below)
5. Also on the right file list, select the SMS attachment ("Library/SMS/Attachments") files. (you can preview the images on the far right)
6. Select 'Export' (at the top) – enter your registration info or click Cancel – and select a (new) directory to export the files.
7. Select 'Delete' to remove the files from the backup.
8. Back in iTunes, manually restore the backup in the same area as above w/ the 'Restore Backup…' button selecting the backup you made in step 1 (if you get the message that you can't restore b/c there's not enough memory on your device, see below).
9. Go into iCloud settings and delete my iCloud backup and then turn it back on.
The iCloud backup on the iPhone went from 4.9GB to 158.6MB. The second iPhone went from 2GB to 162MB (both phones are set to not backup pics and such so they are pretty small).
Not Enough Memory to Restore
If you don't have enough memory, you can try deleting anything you can spare – bigger items are better: video, photos (backup off your device first), etc. Then try again.
If you can't delete enough, you may need to also sync your device, then reset all data/settings (Settings>General>Reset) and do full restore/sync to get the data and apps back. It's a pain. Mainly just be sure to SYNC your device first – that's what saves your apps (backup just saves settings and such).
Here's Apple's instructions – may the force be with you on this one.
I hope it helps!